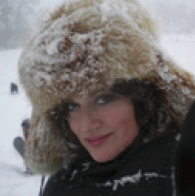 Photojournalist Alexandra Avakian has been published in National Geographic, Time, LIFE, The New York Times Magazine and more. She has covered conflict in Haiti, Lebanon, Iran and more.
Her photographic and written memoir,Windows of the Soul: My Journeys in the Muslim World, was named as one of American Photo's year-end best. In it, she reveals a more diverse and more nuanced perspective of the muslim world.
You can discover more about her and his work by visiting her website and blog.
You discover see her work and those of other photojournalists in the War/Photography exhibit at the Annenberg Space for Photography in Los Angeles thru June 2, 2013.
Alexandra Avakian recommends the work of Susan Meiselas.
Discover the work of thirty great photographer's in Ibarionex's latest book,