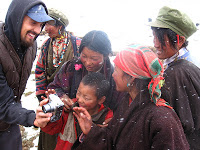 Tom Carter (1973) is a travel photographer who was born and raised in the City of San Francisco and graduated with a degree in Political Science from the American University in Washington, D.C. Following a political career with a number of high-profile state and national campaigns, Tom decided to "peek over the fence" and subsequently spent 18 months backpacking down the length of Mexico, Cuba and Central America.
Tom later spent one year in Japan, one year in India, and four years in the People's Republic of China, traveling extensively throughout the country's 33 provinces and autonomous regions. The result was his first book, CHINA: Portrait of a People, hailed as the most comprehensive book of photography on modern China ever published by a single author.
To find our more about Tom and the project please visit his Facebook page
.