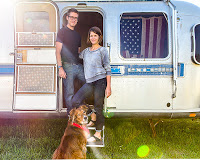 John Ellis and Laura Preston left their lives in New York City on February 1st, 2013 to spend a year traveling around the United States in a 34 foot Airstream trailer. But instead of choosing their own destinations, they crowd-sourced the itinerary, letting the internet decide where they go. John, a freelance web developer, designed and built a website where people can suggest any place in the country for the couple to visit. The suggestions can then be voted upon; John and Laura visit the places with the most votes. They share photos and stories about their experiences on their blog and various social medias.
Both John and Laura come from artistic backgrounds. John went to school in Atlanta to study photography and worked for legendary photographer Jay Maisel for a number of years in Manhattan. Laura is a painter and studied art history and studio art at New York University. You can check out their project at www.thedemocratictravelers.com.
John Ellis recommends the work of Artem Nazarov
Laura Preston recommends the work of Zachary Concepcion.
You can also subscribe to the show via iTunes by clicking here.
Or you can directly download the MP3 file by clicking here.