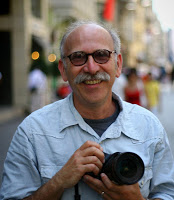 Ken Light is a social documentary photographer, and educator, whose work has appeared in books, magazines, catalogues, on-line media and exhibitions. He is the author of eight books including his most recent book, Valley of Shadows and Dreams (published by Heyday, 2012). Additional books include Coal Hollow, published in 2006 by The University of California Press, his text Witness In Our Time; Working Lives of Documentary Photographers was published by the Smithsonian Institution Press in October 2000 and in a revised second edition in 2010. His photo book Texas Death Row University Press of Mississippi was published in the fall of 1997. Texas Death Row is a look at life inside the death house as the condemned wait to be executed in Americas largest and most active Death Row.
He is a professor at the Graduate School of Journalism at the University of California Berkeley and 2012 Laventhol Visiting Professor at Columbia University Graduate School of Journalism. He has taught workshops at the ICP in New York City, The Missouri Workshop, Anderson Ranch, the S.F. Art Institute and the School for Photographic Studies in Prague. He was editor of the university of California Press series on contemporary photography and a founder of the International Fund for Documentary Photography which awarded grants to photographers internationally and Fotovision.org anon-profit documentary organization based In San Francisco, California. He is associated with the editorial photo agency Contact Press Images in New York City. You can discover about him and his work by visiting his website.
Ken Light recommends the work of Ken Schles.
Check out Ken's book Witness in Our TimeL Working Lives of Documentary Photographers by clicking on the image below.