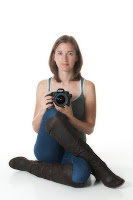 Varina Patel is a nature and landscape photographer who believes that there is nothing more remarkable than the power of nature. Along with her husband and fellow photographer, Jay Patel, she explores the natural world whether it's the expansive landscape or the stunning details of the macro world. She is generous in sharing her passion for photography via workshops, e-books and using social networks. You can discover more about Varina and her work by visiting her website and blog.
Varina Patel recommends the work of Susan Onysko.
You can also subscribe to the show via iTunes by clicking here.
Or you can directly download the MP3 file by clicking here..