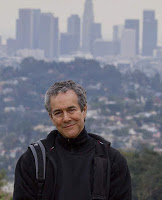 David Strick has worked as an editorial, advertising and corporate photographer whose interest in the entertainment world has led him to originate documentary behind-the-scenes print and web features for major media companies, including eleven years of producing a monthly photo column for Premiere Magazine entitled "David Strick's Hollywood," 2 ½ years of originating and photographing a web/print feature called "David Strick's Hollywood Backlot" for the Los Angeles Times, and a web/print feature for The Hollywood Reporter, entitled "David Strick's Hollywood."
He is the author of the book "Our Hollywood" (Atlantic Monthly Press), and his photographs have won awards in the professional publications Communication Arts, American Photography, Society of Publication Designers and Graphis.
He has taught at Art Center College of Design, lectured at UCLA Extension, and the Photographic Resource Center at Boston University. He has served on the board of APA/Editorial Photographers, and as an honorary member of the Society of Motion Picture Still Photographers. You can discover more about David and his work by visiting his website.
David Strick recommends the work of Jeff Jacobson.
You can also subscribe to the show via iTunes by clicking here.
Or you can directly download the MP3 file by clicking here.